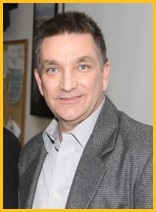 TIM BABCOCK SR.
PRESIDENT
VICTIM ADVOCATE
RETIRED LVMPD DETECTIVE

TIM BABCOCK SR.
Tim Babcock Sr. is the current President of STOP DUI, INC., and assumed that position after he retired from the Las Vegas Metropolitan Police Department in December of 2011. Tim joined the LVMPD in June of 1980 after serving for 6 years with the United States Air Force as a Law Enforcement Specialist. His assignments included Lackland AFB in Texas, Nellis AFB in Nevada, and Clark AFB in the Philippines, where he served 3 years.
After Basic Recruit Training and Field Evaluation Training with LVMPD, Tim was assigned to Patrol and worked as a uniformed Officer answering call for service along the Las Vegas Strip for approximately 3 years. During that same time period he worked TDY with the Vice Section to reduce the number of "prostitution" type crimes that had occurred to visitors and locals, which had frequented the strip.
In August of 1984, Tim volunteered for the Traffic Section and became a Motorcycle Officer investigating accidents and arresting DUI offenders. For 8 years Tim enjoyed being a "Motor Cop" and worked all three shifts. It was in July of 1992 that Tim left the uniformed section of traffic and became a Detective in the Hit and Run Detail. In November of 1994, Tim was assigned as a Detective with the LVMPD Fatal Detail and began investigating Fatal Accidents and those responsible for the deaths of innocent lives. It was during this time period that Tim met Co-Founder Sandy Heverly of STOP DUI, during a Fatal Investigation involving a 12 year old girl that was killed by a DUI driver. With the help of Heverly, the suspected drunk driver was convicted of DUI; at the time the state's Blood Alcohol level was a 0.10 and the suspected driver was under that limit.
In September of 1998, Tim left the Fatal Detail and went back to the streets working as a Traffic Investigator and continuing the fight to reduce the number of DUI Accidents and deaths that were plaguing the Vegas Valley. In December of 2006, Tim left the streets again and assumed Detective duties in the TARGET DUI Section. This afforded Tim the ability to concentrate on those individuals arrested for DUI and to insure that the City and District Attorney's Office had the paperwork they needed to properly prosecute each case.
November 2010, Tim transferred back to the Fatal Detail to finish his career until December 2011. Upon retirement he immediately started working for STOP DUI.